"We go together, you and I"
(S-1, IV, 1)
Our Mission
---
As students of A Course in Miracles, our mission is to provide opportunities for joining and learning together. By sharing experiences, resources and having fun, we are here to be truly helpful and to represent Him Who sent us.
Want to know what's happening in the ACIM community?
Sign up for our email list and we'll let you know!
Our aim with this website is to provide as much information as we can, including:
---
Calendar of events

Providing many opportunities to join together

Blog posts / Videos / Podcasts

As we're inspired to do so, we'll share our path of learning with you and also invite others to do the same

Resources

Information on many inspiring teachers ~ videos, books, etc, including links to their websites

Free downloadable PDF's

These will contain information directly from the Course to print out or use in whatever way is most helpful
---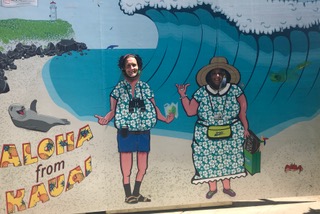 Who We Are
Jake Williams
Jake is dedicated to learning through ACIM as well as other teachings, and learning to live a Happy dream is the theme of his life.  He has been reading, studying, and sharing Course principles for over 8 years.  Before the Course found him, he had a spiritual awakening through a twelve-step program.  Gratitude for everyone and everything in life is a central concept on his journey.  He is married to Shannon Williams, co-founder of The Happy Learners, who introduced ACIM to him. As a couple, they have committed to God and Truth together.  He is willing to share his experiences with all and continues to be a Happy Learner!
Shannon Williams
When Shannon first peeled the plastic from her copy of A Course in Miracles, which was sitting on her bookshelf for over four years, she felt at home.  Twenty years of spiritual "seeking" through so many other books, workshops, retreats and classes had finally brought her to the Answer. "Whew…what a relief!", she thought. Within a few months, Jesus created a space for communication with him and the guidance has gotten so much stronger ever since. She's had experiences of Truth and is embracing her Oneness with God and her brothers more often than she ever imagined she could.
When she first met her husband, Jake, it is best described in Chapter 22, "Each one has looked within and seen no lack." (T-22, I, 3). They have been studying the Course together ever since and living it, together.
Jake & Shannon have been guided to share their experiences as well as provide resources to students of the Course to light the way through Spirit. They have both come to learn that joining in Spirit is lighthearted and fun! You'll find a lot on the website as well as social media to explore.

Come join us in the fun of ACIM!
We would love to hear from you!
Click here to email us